Crystal Skull Conference Speakers

Allayah (Linda Frisch) - Allayah is a crystal skull guardian and founder of the Crystal Skull Sanctuary social network. Allayah has been a gifted clairvoyant since she was young and also works as a healer. Allayah has a special collection of Himalayan Skulls, please see the photo below. (click here for Allayah's full bio)


Ann & Rev. Dr. Phil DeLong - This prolific husband and wife team work together to share special spiritual information and knowledge with others. They are crystal skull guardians of about 70 skulls. Dr. Phil is a medium and mystic who receives rare insights from spirit about the crystal skulls and does public talks while Ann is more linked to healing with the skulls. (click here for the DeLong's full bio)


Laurie Nielsen - Laurie is a Master of Crystology, Inca Shaman, certified energy healer, Crystal Skull Guardian, Teacher and Events Organizer. Laurie has been in the presence of a number of the most well known ancient crystal skulls and has provided opportunities for others to experience these skulls as well.
(click here for Laurie's full bio)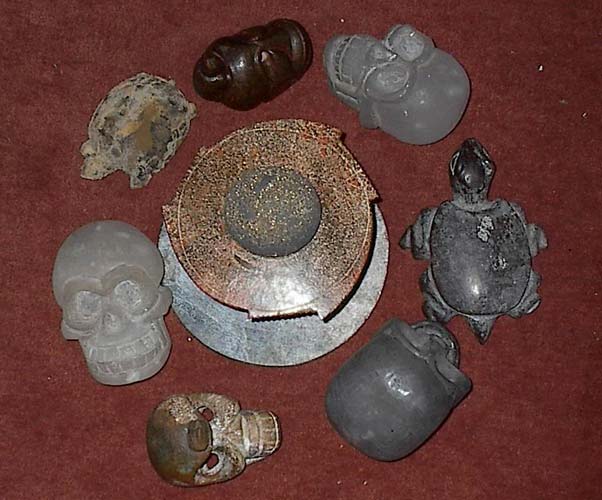 Collection of Himalayan Crystal Skulls in Allayah's hands that she
uses for healing (she calls this pattern the "Star Disc")

Rev. Marilee Ann Snyder-Nieciak - Rev. Marilee Ann is a Transformational Author, Healer, Spiritual Guide, Teacher and Crystal Skull Guardian / Presenter/ Author. She is releasing a new book entitled "Ancient Wisdom for NOW! - A Conversation with the Original 13 Skulls". (click here for Marilee's full bio)



Katrina Head & Joshua Shapiro (Crystal Skull Explorers) - Katrina and Joshua have been together since the early part of 2009, traveling throughout the world sharing the best information they have gathered about the crystal skulls and introducing their personal crystal children. They have also released several new crystal skull e-books, help other people find their perfect crystal skulls and coordinate world peace meditations amongst the many activities they keep themselves busy with.
(for the explorers full bios: click here for Katrina; click here for Joshua)

Crystal Skull Conference Schedule
(if you are unable to read the menu above use the page links below for our schedule)

A Summary of the Full Schedule (both days, click here)

Day 1 Schedule (December 1st, Individual Lecture Details, Crystal Skull Panel,
Laurie N., Rev. Marilee Ann, Katrina H., click here )
Day 2 Schedule (December 2nd, Individual Lecture Details, Crystal Skull Panel,
Allayah, Rev. Dr. Phil & Ann, Joshua S., click here )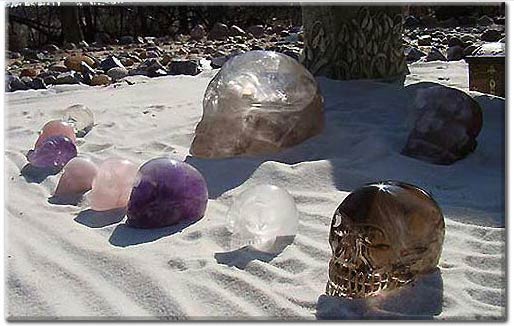 Crystal Skulls that travel with the Crystal Skull Explorers
---

Crystal Skull On-Line Conference 2012 Newsletter

To be kept up-to-date on the latest news linked to the Crystal Skull Conference, On-Line edition 2012, we recommend that you sign up for our free Conference newsletter. As there will be many new activities going on from now until the conference takes place (including new webpages and on-line features added), our newsletter is the best way to get the latest updates.

Below is a form where you can sign-up, we just require your name and your email. After we receive your request, you will receive a confirmation email to verify your newsletter request from "Crystal Skull On-Line Conference". Within this email will be a link you must click, when you do, you will be added to the newsletter.
---

Conference Raffle - 10 Lucky People


For those people who signup and register for our conference, your name will be entered into a raffle where we will pick 10 winners to receive a small crystal skull made by a Brazilian carver (from various types of quartz). These ten skulls will also be charged by the Crystal Skulls held by Joshua Shapiro & Katrina Head which have traveled the world meeting many people and visiting sacred energy sites. Additionally, these crystal children have had the opportunity to meet in person a number of the older crystal skulls publicly known in the world which they call their "Older Brothers and Sisters".



---

Photo Gallery of Crystal Skulls - A Celebration of 2012
(call to our friends in the world, to help us create a photo gallery of crystal skulls that you have in your care.)

In Celebration of the end of 2012 along with the chance to offer this wonderful conference, we thought of another activity to offer that could bring people together who have an affinity for the crystal skulls. We propose to create a photo gallery consisting of digital images of various crystal skulls that exist contributed from our friends all over the world.

Therefore, we are putting out a call to any and all crystal skull guardians to help us create this Photo Gallery. Eventually the link for this gallery in our menu at the top of the conference webpages will be activated so we can all enjoy these photographs. An announcement will be made when the gallery is ready.

If you would like to offer a photograph for the gallery from your personal crystal skull(s), please attach your photos as a jpg file to an email and send it to: crystalskullexplorers@gmail.com - subject: Photo Gallery. In addition to the photo, can you also share, the name of your crystal skull(s) if any and what type of energy, purpose or role does the crystal skull serve in your life or what service it is offering to other people.


---

World Peace Meditation with the Crystal Skulls, December 13th

Throughout 2012, we have been doing a number of world peace meditations working with the energy of the crystal skulls on the 13th of each month, at the 13th hour (1 PM or 13:00 your local time). Since the meditation for December comes after the conference, we would like to link the conference and the meditation together in some manner as if they are part of the same event. As we determine how to do this, we will keep our friends informed as these two activities can create a powerful loving and peaceful energy for humanity.

However, if you would like to read more about the world peace meditation and to prepare to participate with us on December 13th, feel free to visit the meditation information page at:
http://www.v-j-enterprises.com/cs_wpm_instructions2012.html



---

Registration for the Crystal Skull On-Line Conference

The Registration for the conference is not yet ready. This will be done with our co-sponsor ATW, the provider of the on-line classroom for the conference. There is a menu option at the top of the page that will become active when the registration page at ATW is done. All the details about how to register for the conferrence and the cost will be shown on this page. After you have completely registered you will receive an email from ATW with the full information on how to login for the conference.

---

Questions or Additional Information about the Conference

Crystal Skull Conference Coordinators
Attn: Joshua or Katrina
email: conferenceinfo@crystalskullconferences.com
phone: 1-678-687-5787


---

Co-Sponsors for the Conference

Please feel free to visit our Co-Sponsors and check out the wonderful information and programs they offer on spiritual subjects and the paranormal. The success of this conference is directly related to the support we are receiving from all of the Co-Sponsors. If you click on the graphic banners below it will take you directly to the Co-Sponsors' pages.