-- and Other World Mysteries .....

(Return of our Crystal Skull / World Mystery
Monthly On-line Radio Show
September 28th, 1-3 PM EDT; 10 AM - Noon PDT)

"... See Information below how to listen to the archive for
all our programs that were aired this year including this one..."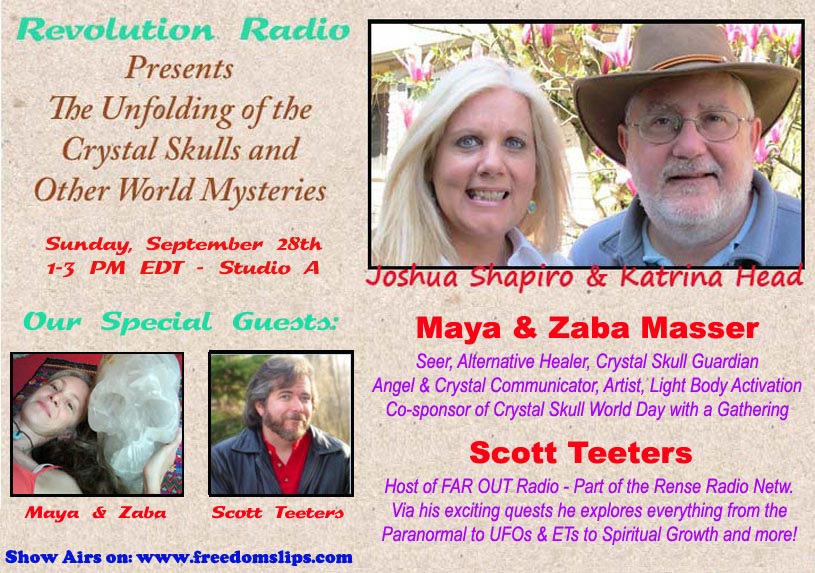 In conjunction with "A Mad Look at Reality" Show
staring the Mad Painter, our producer on Revolution Radio
sponsored by Freedom Slips on Studio A

To listen to this show live and on-line go to:
http://www.freedomslips.com
(see directions below how to listen to our show)

Come listen to our Exciting
Show aired on September 28th
with our special guests:


Maya Masser
(Seer, Crystal Skull Guardian,
Angel Communicator and Crystal Skull
World Day co-sponsor with a Gathering)
Scott Teeters
(Host of "Far Out Radio")

How to Tune into our Radio Shows Live: - Go to the website run by Freedom Slips at:
www.freedomslips.com -- then scroll down the page a little bit until you see under a banner entitled "Your Favorite Show of 2013 / Best of Freedomslips" - you will see a square section just below that shows "FS Studio" a (with a microphone) , see below: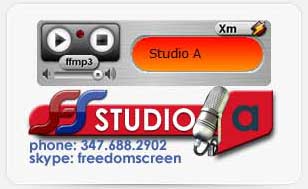 This is just an image of how to listen to the
show on the Freedom Slips website, you just
click on the play button like above!!

For the archive of this particular radio show: if you were unable to attend the live show, a version of it is stored on Youtube thanks to a copy created and sent to us by "A Mad Painter", our show producer -- you can listen to this show with both of our guests by going to: http://youtu.be/KezDBbkCbI4


What did we discuss on the Sept. 28th Show?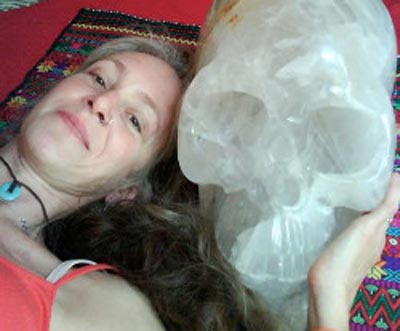 For this show we have the great pleasure to speak to Maya Masser, the guardian of the 96 lbs. crystal skull known as "Zaba". While Katrina and I have not had the pleasure to meet Maya and Zaba in person yet, (so in a way this is also our first chance to really speak to Maya) we have heard from people in the locations we have traveled to, offering our own crystal skull presentations, about how powerful their experience were when having contact with these two as they just proceeded our visit.
Maya is a multi-talented young woman who has been sharing her gifts as a Seer, an Alternative Healing Facilitator, Angel & Crystal Commun-icator, Priestess of Crystal Healing, and Shamanic and Fine Artist for most of her life. Currently, Maya is Caretaker and 'legs' for Zaba, the 96lb Crystal Skull. Together, Maya and Zaba share their well known workshops and event: FULL EMBODIMENT; LIGHT BODY ACTIVATION IN PARTNERSHIP WITH LIVING CRYSTAL which includes Interactive Altars, Lectures, Ritual & Ceremonial Meditations, Healing Circles, and One-on-One Sessions. These sessions are experiential in nature,designed to facilitate participants in hands-on interaction with crystal, sound, movement and art as Sacred Gateways to discovery of new levels of energy, passion, peace and awareness in the present moment. We will be discussing with Maya her views about the crystal skulls and what has she learned during her journies traveling with "Zaba" (shown in the photo above).
In Support of Crystal Skull World Day: "Maya & Zaba, are happy to support Crystal Skull World Day. CSWD gifts Light Seekers, Healers, Ministers, Lovers, Freedom Makers, Crystal Workers, and all manner of the rest of us with yet another opportunity to raise and deepen the vibration of "Peace and Healing" for ALL on our planet Earth and beyond. CSWD's stated intention aligns with The Great Prayer of Unity that lies at the center of All Things."

To learn more about the special spiritual work which Maya and Zaba are doing take a peek at their website at: www.CRYSTALZABA.com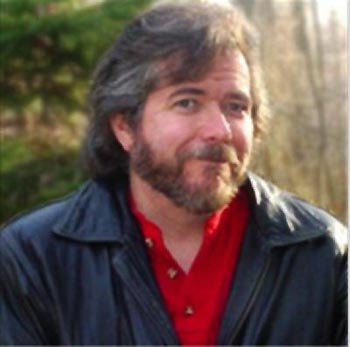 Joshua came into contact with Scott Teeters when he found an interview that Scott was doing with a scientist from NASA who was discussing Aliens on the Moon. After a few conversations to get to know each other and finding a number of topics of shared interest, Joshua has been a returning guess on Scott's amazing show "Far Out Radio", besides the two of them becoming good friends. So this is our chance to return the favor to have Scott on our show.
Now if you go to "Far Out Radio's" Facebook Page, there are a lot of photos of all the amazing guests they have had on the show (which airs now three times a week). Every FAR OUT subject you can imagine from ghosts, to the paranormal, other dimensions, UFOs & ETs, Conspiracy and more is covered. Scott approaches all of his shows with an open mind and a desire to provide for his large audience (they air on the Rense Radio Network) the good stuff.
So for our show we will be asking Scott to discuss his best programs which include some of the most remarkable information he has heard from his guests. Also Scott has told Joshua on "FAR OUT RADIO" (BTW: Joshua will be a quest again on Far Out on September 24th if you can catch it plus all of the prior visits Joshua has made are achieved) that he has had his own share of spiritually based experiences too. All in all you will enjoy meeting Scott and no doubt will want to listen to future shows on "FAR OUT RADIO".
To know more about the FAR OUT RADIO and what special guests will be appearing go to their website at: http://www.faroutradio.com

or visit them on facebook at: https://www.facebook.com/FarOutRadio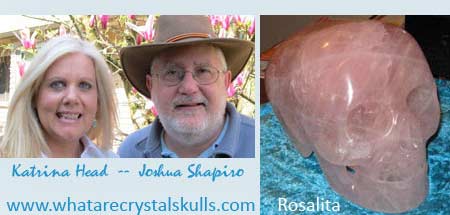 Your Host for this Show was the Crystal Skull Explorers with Joshua Shapiro with Katrina Head (Katrina was not available). The Crystal Skull Explorers have been working closely together since 2009 when they met in Atlanta. They have written three books together including the Crystal Skull Explorers Travel Log Series: Travel Log #1: Mexico 2009; Travel Log #2: Search for the Blue Skull in Peru. They also conduct a monthly world peace meditation with the crystal skulls and are a co-sponsor for Crystal Skull World Day.

They organized the first crystal skull on-line conference in December of 2012 and a second one in 2013. There first radio show called "Crystal Skulls Now" was aired in 2010 on BlogTalk Radio. Joshua currently is involved in working with a talented team of people to create two new paranormal adventure novels (trilogies) which will show two possible scenarios linked with the Crystal Skulls how World Peace can happen in our world in the near future. Feel free to visit their website at: www.crystalskullexplorers.com

"Unfolding of the Crystal Skulls and Other World Mysteries" is a monthly radio show hosted by the Crystal Skull Explorers and broadcast as a part of the "The Mad Look at Reality Show" hosted by A Mad Painter every Sunday. Each month the explorers will be examining different aspects of various World Mysteries and the Paranormal via special guests and sharing from their own extensive experiences. If you would like to be a guest on the show or have a person you would like to recommend please send an email to: crystalskullexplorers@gmail.com

TO HEAR OUR ARCHIVE SHOWS IN 2014
Sunday, August 31st (guest - Joseph Federico Munoz, Mayan Daykeeper and Crystal Skull Guardian, discussed Mayan insights about the crystal skulls & prophecy - video)
http://youtu.be/H4dx-Gs9twI

To read about what this show was about, go to our webpage at:
http://www.crystalskullexplorers.com/RadioShow83114.htm
---------------------------------------------

Sunday, July 27th (guest - Council woman of the Cystal Skull Hearts Council helping to organize the Crystal Skull World Day, November 22nd - 1 hour 51 minutes - audio)
http://www.crystalskullexplorers.com/UnfoldingoftheCrystalSkullsRadio-Revolution-72714.mp3

To read about what this show was about, go to our webpage at:
http://www.crystalskullexplorers.com/RadioShow72714.htm

(Read these Notes about this Show -- we took over the last two hours of the show entitled "A Mad Look at Reality" so this is why Joshua discusses it being the second part of the radio show. Further, our second quest Tim Beckley got the times confused and does not appear but Joshua goes into several subjects beyond the "Crystal Skulls" linked to the paranormal and some of the interesting new research the Explorers are conducting.)


---
Don't miss out on this early book
released in 1989 written by
Nocerino, Bowen & Shapiro.

It is currently out of print but there are
limited copies still available now.

(Click on the Front Cover of the Book to
read excerpts or get your copy today!!.)

The Amazing book by
Joshua Shapiro & Katrina Head
the Crystal Skull Explorers,
"Search for the Blue Skull in Peru".

Get Your Copy Now!!
Printed Edition / E-book
(be one of the first to
have the Printed Edition)

(Click on the Front Cover of the Book
to Get Your Personal Copy.)


Our FREE new Newsletter is available right now --
entitled "The Unfolding of the Crystal Skulls".
For each new member who joins we are sharing,
never publicly released before, a special 3-Part
Crystal Skull Documentary, made in 2007.
To learn what other gifts and information we are
sharing with our members, click on the photo of the
crystal skulls above to view the newsletter webpage.



Crystal Skulls World Peace Meditations for 2014
(click on the photo or the text link above to learn about the special world peace
meditations being held in 2014 - starting on January 1st and continuing
each month on the 13th day at the 13th hour - as we work with these
crystal friends to share a special energy with all living beings on the Earth)
Contact Information
Crystal Skull Explorers
Attn: Joshua Shapiro & Katrina Head
Kent, WA, USA
Phone: 1-312-473-2790
Fax: 1-206-350-4985

EMAIL: crystalskullexplorers@gmail.com
SKYPE: joshaushapiro17
TWITTER: @csexplorer

TWO KEY WEBSITES:

www.whatarecrystalskulls.com
www.crystalskullexplorers.com