Crystal Skull Conference Speakers (March 2013)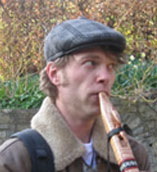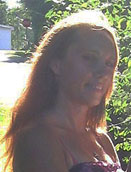 Bart Peters & Gina O'Connor - This special couple living in Holland, is the merger of the Dutch energy via Bart and the American energy from Gina. Together they are combining their spiritual gifts to work with the crystal skulls. Bart is a musican and healer that works with the skulls while Gina sets up spiritual retreats to sacred sites and works with the shamanism of the Inca. Together this couple has six quite old Mongolian skulls they use for their special spiritual work. Gina also is able to channel the consciousness of the crystal skulls to share with her clients.
(click here for Bart's full bio page and click here for Gina's full bio page)


Charlotte Szivak - Charlotte is a crystal skull guardian of 10 skulls and calls herself a Diamond Soul Activator who uses her spiritual gifts to help others in their soul growth. Her crystal skull called "Maya" initiates her clients into the codes for the New Earth Template. Charlotte leads Awakening Cruises and also has her own radio show. (click here for Charlotte's full bio)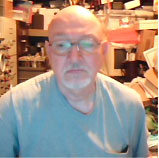 Floyd Petri - Mr. Petri is the crystal skull guardian of "Windsong" which is a crystal skull that has a galactic being that lives in the skull that originates from a "Light Universe". Mr. Petri is a UFO researcher and calls himself a nuts and bolts person. But "Windsong" was sitting in a store in Texas and literally called to him before the owner of the store worked out an arrangement for this human size clear quartz skull to come to the Petri Family. With Mr. Petri background in the Air Force and as a Police Sergeant, this is an amazing story.
(click here for Mr. Petri's full bio) -- Note Mr. Petri replaces Ms. Koenig on Saturday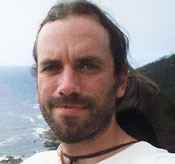 Gabor Nagyistvan - Gabor is on a mission in Hungary, to help as many people as possible to find the proper crystal skulls. He first met his first crystal skull in 2008 after the last "Indy Jones Film" aired in a store as his crystal skull called to him and told him where to find him. Gabor would like to see a greater awareness of the crystal skulls in Hungary, helps to organize other events, does ceremonies at sacred sites, is a healer, crystal therapist and Theta Healing Consultant. (click here to view Gabor's full bio)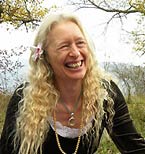 Kathleen Murray - Kathleen is the director of the Academy of Crystal and Natural Healing, based in Aberdeenshire Scotland. The Academy offers Crystal and Gem Therapy Diploma courses, accredited by ACHO (Affiliation of Crystal Healing Organisations), and the Crystal Therapy Council; and Colour and Advanced Vibrational Medicine Diploma courses accredited by ACTO (Association of Colour Therapy Organisations). She is the author of the "Divine Spark of Creation; the crystal skull speaks", published in 1998. She has been a speaker at International conferences and given workshops throughout the world. She is a guardian of several crystal skulls (see her full bio page).

Nicole Lahousse
- is the owner of Majik, LLC and an Aura Photopher. Nicole holds bachelor's degrees in Metaphysical Science and in Biology/Chemistry. She is a Certified Crystal Therapist and Quantum Touch Practitioner. She is also a crystal skull and metaphysical teacher and wayshower who has been receiving messages from the skulls for many years
(see her full bio page)
.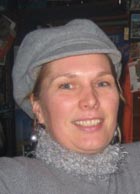 Sylvia van Dinter (Qori K'ente) - Sylvia has been trained as indigenous shaman learning from the Qeros and Aymara shamans in Peru. She offers special trainings about the integrating of the feminine, and organizes journeys to Peru and Egypt. She is guardian of an ancient Maya skull, "Sumachta" and several other skulls. She was one of the co-creators and organizers of the two international Crystal Skulls conferences in Holland in 2011 and 2012. Her experiences with the crystal skulls was published in the book in Germany (2012) 'Crystal Skulls: A Journey of Experiences"
(see her full bio page).



Katrina Head & Joshua Shapiro (Crystal Skull Explorers) - Katrina and Joshua have been together since the early part of 2009, traveling throughout the world sharing the best information they have gathered about the crystal skulls and introducing their personal crystal children. They have also released several new crystal skull e-books, help other people find their perfect crystal skulls and coordinate world peace meditations amongst the many activities they keep themselves busy with.
(for the explorers full bios: click here for Katrina; click here for Joshua)


---

Crystal Skull Conference Schedule (March 2013)

(Below is a summary of our speakers who presented or each day with the title of their talk. If you wish to view the entire page that discusses all of the speakers for the entire March conference click on the first link below, otherwise you can click on a link for the day or a particular speaker.)

Full Schedule of Both Days (March 9th & 10): click here

Day 1 Schedule (March 9th, Individual Lecture Details, 4 Speakers)

Order of Speakers:
Kathleen Murray: The Jade Skulls and the Council of Lemurian Elders (click here)
Gabor Nagyistvan: The Crystal Skulls and Hungary (click here)
Nicole Lahousse: CrystalSkulls, the Auric Field and Attunement (click here)
Floyd Petri: The Adventures of Floyd Petri and "Windsong" (click here)
Day 2 Schedule (March 10th, Individual Lecture Details, 4 Speakers)

Order of Speakers:
Bart Peters & Gina O'Connor: Sacred Sites, Sounds and Crystal Skull Skulls (click here)
Sylvia van Dinter: Crystal Skulls: Power Tools for Awakening Consciousness (click here)
Charlotte Szivak: Divine Crystal Skull Emergence - Align with the Mind of Light (click here)
Katrina Head & Joshua Shapiro: The Blue Skull & the Peru - Crystal Skull Link (click here)

Crystal Skull Radio Interviews
(Starting on January 31st through just before the conference begins on March 9th, we have setup various on-line radio interviews with various programs including some of our sponsors. We are fortunate to have Joshua Shapiro and Katrina Head, the Crystal Skull Explorers offering their time to share their knowledge as both a guest and host at times along with the appearances of different of our conference speakers. If you would like to see the schedule of the shows, just click here )

Crystal Skulls and Beyond 2012
If you would like to view our first conference on December 1st and 2nd, 2012 when we had different speakers and attempted to hold the first on-line crystal skull conference which was enjoyed and appreciated by the people who attended this special event, feel free to visit the Home Page of the 2012 Conference by clicking on the link below:
http://www.crystalskullexplorers.com/CSOnlineConf2012.html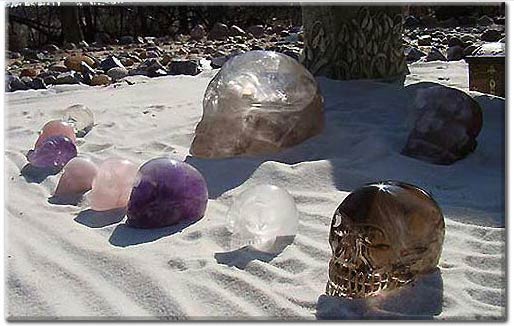 Crystal Skulls that travel with the Crystal Skull Explorers
---

Registration to Obtain the On-Demand Videos for the March 2013 Crystal Skull On-Line Conference
Awakening Truth Worldwide (ATW), one of our key partners, not only provided the on-line conference room for this event and also was responsible for taking care of the registration of the Crystal Skull Conference. Now, that the March conference is over, you have the ability at any time you choose, to get a copy of the on-demand video recordings made of each day. To go to this special page on ATW for the videos, Yyou can either click on the flyer for the conference below (or when you see this flyer on any other page on this website) or the "Conf. Videos" menu bar option above, to go to this special page on the ATW web site.

When you have purchased your copy of the on-demand video (for Day1 or Day2 or both) - you will receive a confirmation of your purchase via email from Awakening Truth Worldwide which includes the instructions how to log into the on-line conference room on the day (or days) you requested and to view the video recordings. Payment is being done using paypal and is based upon Canadian Dollars. So if you are ready to visit the On-Demand Video Conference Recordings Page, just click on the conference flyer below: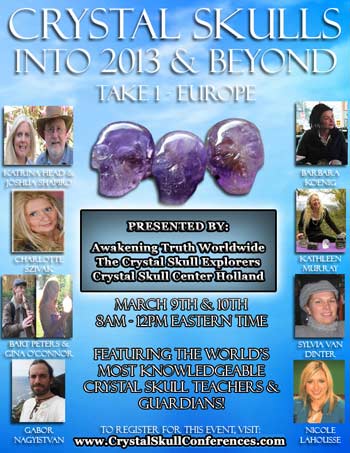 (Click on the Flyer Above to Experience
What happened at the March 2013 Conference)
---

Crystal Skull On-Line Conference 2013 Newsletter

To be kept up-to-date on the latest news linked to the Crystal Skull Conferences, we recommend that you sign up for our free Conference newsletter. As there will be many new activities going on from now until each new conference takes place (including new webpages and on-line features added), our newsletter is the best way to get the latest updates and to hear about future conferences.

Below is a form where you can sign-up, we just require your name and your email. After we receive your request, you will receive a confirmation email to verify your newsletter request from "Crystal Skull On-Line Conference". Within this email will be a link you must click, when you do, you will be added to the newsletter.
---

Photo Gallery of Crystal Skulls - A Celebration of 2013

(call to our friends in the world, to help us create a photo gallery of crystal skulls that you have
in your care.)

In Celebration of the new year of 2013 as well as to bring forth this wonderful conference, we are continuing the activity we began in December 2012 event of our photo gallery of crystal skulls. This photo gallery consists of digital images of various crystal skulls that exist all over the world contributed from our friends .

To view photos of the crystal skulls sent to us from friends all over the world, you can begin your viewing by going to the first page of the gallery at:

http://www.crystalskullexplorers.com/photogallery1-2013.html
(there is also a link to the photogallery in the menu at the top of the page which shows a link to all the pages we have so far. The page above is the first page. We hope to have hundreds of photos to show of the many types of crystal skulls being found and being carved throughout the world)
Therefore, we are putting out a call to any and all crystal skull guardians to help us create this Photo Gallery. If you would like to offer a photograph for the gallery from your personal crystal skull(s), please attach your photos as a jpg file to an email and send it to: crystalskullexplorers@gmail.com - subject: Photo Gallery. In addition to the photo, can you also share, the name of your crystal skull(s), what material it is made from, your name and where you are located in the world.

We think this part of the website should be interesting and fun for our visitors plus also look at the various webpages for other photos and more photos of crystal skulls will appear in some new videos we are creating to promote the conference announced shortly.


---

Crystal Skull On-Line Resources

(This page shares some key on-line websites that share all kinds of vital information linked with the crystal skulls or about world activities.)

We have added a new page which offers some special crystal skull related websites that offer all kinds of amazing information and discuss key events taking places linked to the skulls all over the world. Over time we hope to add more contacts to this page as we continue to use this website for future on-line conferences in 2013 and beyond. Feel free to visit this page at:

http://www.crystalskullexplorers.com/resources2013.html
(there is also a link for these on-line resources in the menu at the top of the page which is labeled resources or the last menu item to your right.)

---

World Peace Meditation with the Crystal Skulls in 2013

Throughout 2013, we have been doing a number of world peace meditations working with the energy of the crystal skulls on the 13th of each month, at the 13th hour (1 PM or 13:00 your local time). The energy of these meditations has also helped to share a special energy linked to our conferences, both those meditations which take place the month before and the month after. The conference and meditations are two of our key projects for 2013 to share a loving and positive energy with our world and all life upon here. If you would like to learn more about this meditation or join us in a future one, see:
http://www.v-j-enterprises.com/cs_wpm_instructions2013.html


---


Questions or Additional Information about the Conference

Crystal Skull Conference Coordinators
Attn: Joshua or Katrina
email: conferenceinfo@crystalskullconferences.com
phone: 1-206-430-4397


---


Co-Sponsors for the March 2013 Conference

Please feel free to visit our Co-Sponsors and check out the wonderful information and programs they offer on spiritual subjects and the paranormal. The success of this conference is directly related to the support we are receiving from all of the Co-Sponsors. If you click on the graphic banners below it will take you directly to the Co-Sponsors' pages.
(Note - to view a more comprehensive description of each
sponsor visit our new SPONSOR'S PAGE, click here)